Dignity of Life Committee
The Dignity of Life Committee was formed to address issues that affect human dignity.  Our mission is to be evangelizers for the Gospel of Life by sharing the Good News of Jesus Christ, who is Life, to the community of Our Lady of Sorrows.  Made in God's image and likeness, as Catholic Christians, we value each human life from conception to natural death.  Our committee works to educate our fellow parishioners on current life issues and to involve them in helping to promote a culture of life.
Some of the activities we seek to engage our community in are:
Collectively praying together during Holy Hours, Pro-life Stations of the Cross, and Rosaries for Life
Providing resources for women and men with unplanned pregnancies and for those who suffer from involvement in previous abortions
Collecting material goods to support our local pregnancy centers
Inviting speakers to discuss dignity of life issues such as end-of-life and hospice care
Educating our school community and parish about prenatal development through our Spiritual Adoption Program
If you have any questions or would like to participate in any of these activities, please contact Bridget Dimmer at
[email protected]
or 248.949.3254. New committee members are always welcome.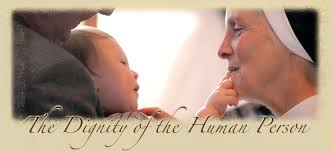 A new life is always beautiful in God's eyes, but finding out that you're unexpectedly pregnant can feel overwhelming.  The following organizations are filled with people who want to help you.  We, the members of Our Lady of Sorrows Church, support many of these not-for-profit organizations so that nearly all of their services are free to you.  Please feel free to text us at (248) 939-4612 to let us know how we can pray for and further support you.